Price list, How much it costs - Kawasaki KSR 110 PRO 2013
It's very hard to tell you how much you'll pay for your new Kawasaki KSR 110 PRO. Different shop equals different price and different services. But lets talk on average. First time you walk into a shop, they will tell you some price. I was told 67 000 Baht (Thailand) for brand new KSR 110 PRO model 2013 (newest). I visited same shop next day and try to bargain. They lowered offer to 66 000 Baht immediately. As this is Thailand and people love to get free gifts, when they are buying something expensive, they also offered something for free. And I was told, that this price now include everything, even registration fees etc. We closed deal and I bought it for 66 000 Baht.
Price includes paper work, service and warranty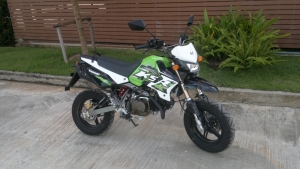 If you walk into a shop with enough cash, you'll be leaving it on your motorbike the very same day. In 1 hour top. First of all you have to pay, after that they will fill all necessary forms and send everything to authorities. You will get bill, which is your temporary license plate. Shop will handle all communications with authorities. And after about 2 months they will call you to come back for your new license plate. Or you can have it delivered at your address. All this should be included in price. Warranty is 3 years, but you'll be using it just for major defects. I visited shop about three times, because I wasn't happy with efficiency of rear brake, clutch and engine. Every time they adjusted it and make test ride for free. I didn't even have to bring my bill or any papers. So price also include these small repairs and adjusting for free. Same principle also apply when buying accessories. For example, if you're going to buy pillion passenger foot pegs, they should attach them for free with right tools. Motorbike shops usually have technician present, so adjusting or fixing small problems is matter of a few minutes.
In Thailand you'll most likely get free gifts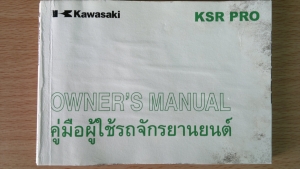 I bought my Kawasaki KSR in Thailand. When Thai people are buying something expensive, they like to get gifts for free. If you're going to buy gold bracelet, you will most likely get set of glasses for free. If you're going to buy car, you will get TV for free. That's how it works at most stores in Thailand. When I was buying this bike, they take me to the back of store, where was room full of free gifts. You could get iron, rice cooker, radio, electric kettle and a lot more electric devices. And this gift comes of course with another free gift. So I ended up with rice cooker, first aid kit and some toiletries. When I asked local people which shop is the best, they compared them by amount of free stuff you will get. And warn me about one, where you get just umbrella. Last time I was passing that shop it looked like they went bankrupt. If you try to bargain, they will lower price and also add some free gifts.
| | |
| --- | --- |
| country | estimated price |
| Thailand | 66 000 Baht |
| Vietnam | 46 000 000 VND |
| Indonesia | 26 000 000 IDR |
| Malaysia | 7000 MYR |
| Philippines | 97 000 PHP |
| USA | 2 160 USD |
| Laos | 17 500 000 KIP |
Don't forget to bargain! Price can always go lower
As I mentioned in the introduction, they lowered my price from 67 to 66 thousand Baht and add some services for free. Bargaining is not indecent or embarrassing for anyone. They're expecting that you will bargain. It will most likely go like: How much is it? 67000 Baht. Can you go lower with this price? OK, 66 000 Baht and we will give you this and this for free. The end. They are expecting, that you will want to go lower with price. So don't be afraid and just ask. It will also help if you take someone local with you. Local people know standard procedures of buying something in Thailand and they can tell when you can bargain and when some services should be included in price. With someone local you are less likely to be cheated or charged more than other customers. You can also try to visit more shops and check, if somebody can offer lower price.